Sea Monsters
From Ivy Press

"Olaus Magnus's 1539 Carta Marina can be considered the major source of Renaissance sea monster iconography and lore. The map and its voluminous commentary, History of the Northern Peoples, established Olaus as the innovative historian of the sea serpent, the giant squid and sea monsters in general.

"Sea Monsters is structured around Olaus's map which is reproduced as a beautiful fold-out on the back of this book jacket and the charts that two pre-eminent sixteenth-century cartographers derived from it: Sebastian Münster's Monstra Marina & Terrestria (1544) and Abraham Ortelius's Islandia (1590). All three charts are remarkable for their identification of sea beasts in lettered
keys. The keys are included in the book, enabling the reader to match corresponding beasts with each other and with the text.

"Joseph Nigg introduces readers to Olaus's fantastic sea beasts by taking an imaginary voyage up the northern seas of the historic Carta Marina map, with Olaus himself as guide. After the Swedish cartographer has introduced each creature, it bursts forth in stunning art, followed by a discussion of its meaning and influence. Olaus's marine beasts multiplied in natural histories, and his map inspired and influenced marine zoology and cartography for centuries thereafter.

"Sea Monsters is an enthralling tour of a world that still holds many secrets for us land dwellers, who will forever be fascinated by reports of giant squid and the real-life creatures of the deep that have proven to be as bizarre and otherworldly as we have imagined for centuries. It is a gorgeous guide for enthusiasts of maps, monsters and the mythic."

Reviews

The Boston Globe
'Sea Monsters' by Joseph Nigg, by Jan Gardner

"Joseph Nigg, the inventive mind behind How To Raise and Keep a Dragon, has immersed himself in the lore and history of imaginary animals for 30 years. His newest book, Sea Monsters: A Voyage Around the World's Most Beguiling Map (University of Chicago), is itself a neat trick. Unfold the book jacket to reveal a poster-sized reproduction of a richly detailed map of Scandinavia that dates to 1539. The seas on the map are littered with fantastic creatures, such as a sea unicorn and a giant worm that wraps itself around a big ship. Nigg is an extremely capable guide through the treacherous waters."

Wired
Kraken and Owl Whales: Take a Dip With History's Most Terrifying Sea Monsters, by Matt Simon. With illustrated descriptions of 10 of Olaus's sea beasts.

"In a beautiful new exploration of the Carta Marina, Sea Monsters: A Voyage Around the World's Most Beguiling Map, scholar Joseph Nigg dives deep into the history and wide influence of Olaus' bizarre creatures."

Slate
Here Be Duck Trees and Sea Swine, by Joseph Nigg. An interactive tour of the Carta Marina's sea monsters.

The New York Review of Books
Here Be Monsters, by Marina Warner

"Nigg shows a juic[y] interest in the myths and stories, and provides a useful, gleeful "sea monster key." ("ZIPHIUS, a horrible sea monster that swallows a black seal in one bite…. ROSTUNGER…somewhat like a sea calf. It goes to the bottom of the sea on all four of its feet, which are very short.") He also quotes most entertainingly from the anonymous 1568 English translation of Olaus's commentary, which reads like a cross between Thomas Browne's Pseudoxica Epidemica, an invention from Borges's library of Babel, and a recovered gnomic relic of Middle Earth."

The Bookbag
Sea Monsters: The Lore and Legacy of Olaus Magnus's Marine Map by Joseph Nigg, by John Lloyd. Review of the Ivy Press edition.

"Ducks being born from trees, a monk-fish that isn't anything like a monkfish but more like a horrid '80s Doctor Who enemy, and so much more are scattered through the lovely pages, and this is something to relish in that it shines a light on a completely unknown subject with unforeseen pleasure."

Westword
Dive deep with Joseph Nigg's Sea Monsters Tonight, by Alan Prendergast

"The book is a handsome, coffee-table exploration of Magnus's work, a voyage from one end of the map to the other, explicating each crazy beast found on it and offering some informed speculation on Magnus's sources and the real-life counterparts, if any, of the creatures."

Denver Public Library
Local Author Joseph Nigg Explores Nordic Sea Monsters, by Lisa Flavin

"In Sea Monsters, Nigg guides the reader through the intricacies of the map and the times of its creator. It's a voyage that delves into the mythology behind many fabulous sea creatures but also explores their connections to real-life whales, squids and other behemoths of the deep."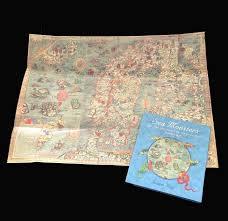 Copyright © 2022 Joseph Nigg